According to our sources, Vitality has decided to keep Nabil "Nivera" Benrlitom out for the time being as the team has to prepare to play with five players.
On October 29, 2020,
Vitality
was the first team on Counter-Strike Global Offensive to make a tactical and voluntary substitution in a match. The BO3 against Complexity in BLAST Premier Fall 2020 saw Nabil "
Nivera
" Benrlitom take the spot of Kevin "
misutaaa
" Rabier on Dust2. Vitality continued to experiment as the months went by, winning several tournaments and establishing themselves as the best team in the world in the HLTV rankings.
As per usual, Valve decided to go against any innovation, the substitution rule remaining invalid for the Majors. Also, the teams making changes during RMR tournaments would lose 20% of their points after each new substitution. This pushes some teams like Astralis, Vitality and Na'Vi, used to using 6 players, to take decisions.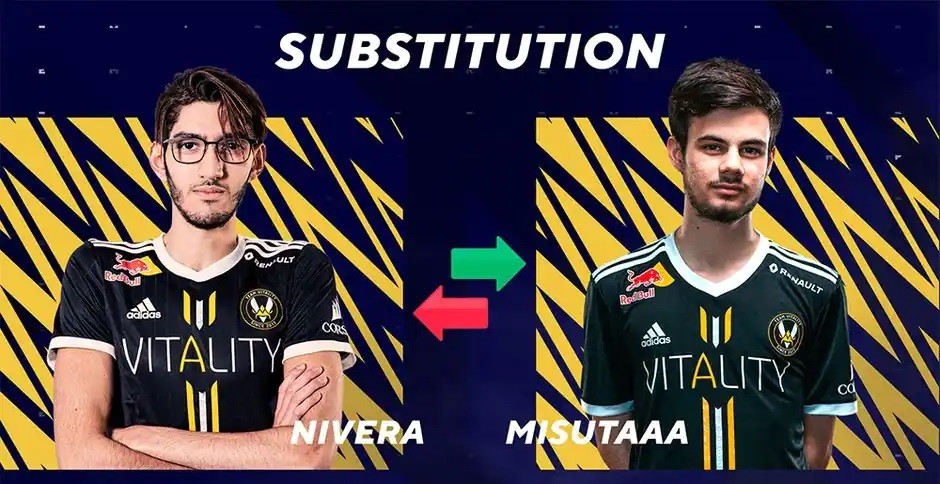 The end of the substitutions?
According to our information, Vitality will not play the ESL Pro League Season 13 with Nabil "
Nivera
" Benrlitom, so the usual five will play this event. The transition to five players could also be longer and could continue after this tournament.
It seems that Vitality and their coach Rémy "
XTQZZZ
" Quoniam have decided to adapt, as the situation regarding the RMR qualifying tournaments for the Majors obliges the roster to prepare to play with only five players, without any change, or else lose very important points. It is therefore the young Belgian player that goes inactive for the moment despite his good performances, displaying a 1.09 rating since his arrival at Vitality.
Vitality
will play the EPL with :
Dan "
apEX
" Madesclaire
Cédric "
RpK
" Guipouy
Mathieu "
ZywOo
" Herbaut
Richard "
shox
" Papillon
Kévin "
misutaaa
" Rabier
Rémy "
XTQZZZ
" Quoniam
(coach)
Nabil "
Nivera
" Benrlitom
(inactive)